There's no worse scenario for an author than launching a new book out into the world and watching, waiting, and hoping for sales, week after week, and … nothing.
Knowing how much competition there is for book sales, writers need every edge in getting their books discovered, and acquiring real-time data on what books sell well, what keywords are actually generating sales, and which subgenres are "hot" will give you that edge.
How To Find a Genre That Sells Well
There are a number of ways you can research which genres sell well, but that's not the only criteria for finding a genre you can sell big in. In fact, big-selling genres are flooded with books, so it's not an easy task writing a book that will rise above the thousands of others. Even looking at subgenres shows a lot of competition.
But here's the key point: Certain genres are big sellers because there are a lot of people reading those genres. There may be huge supply, but there is also huge demand. You could very successfully choose a specialized subgenre that doesn't have the high numbers of romance or thrillers have. But, if there is enough demand, and the top books in that subgenre are making good money, there is room for you to make good money too.
Meaning: sell a lot of books. Another way you can find top genres is to do Google searches. You can search for "bestselling genres on Amazon" and read blog posts and articles. You can read articles that compile annual sales stats, which can be helpful but are often years old. And all this is time-consuming and general, not specific.
Authors need current sales, current stats. Stats like the average price for a subgenre's best sellers. The keywords these authors are using to gain visibility.
What's most helpful is to get access to the last month's sales and top sellers to see what potential there is for you to fit into that genre and sell big. Up until recent years, the previous methods I mentioned were pretty much the only way a writer could search out info on genre.
I spent much time asking marketing experts how to find this information, and they didn't know. Someone suggested lurking on Goodreads and Kindle forums to see if people were complaining there weren't enough good books in the genre they loved.
But just how does one go about finding those discussions, if they're there? And how much would that tell you, really?  Maybe only a handful of readers love books about zombies in outer space. Just because they are decrying the lack of novels to read, that doesn't mean if you wrote those types of books, you would sell thousands of copies.
Then I learned of KDSPY.
How KDSPY Can Give You the Edge

Called "The Ultimate Kindle Spy Tool," KDSPY is probably one of the most valuable tools an author can utilize.
This unique software application essentially reverse engineers the Kindle marketplace and shows you which niches sell well, which have much or little competition, and how much revenue the top-selling books in that niche have made in the last thirty days.
It functions as a tool that works from your toolbar (Chrome or Firefox), and there are so many features that I love with this app:
It's easy to load and use and integrates into your browser for easy access.
It gives you gobs of pertinent info that will help you determine what niches are selling.
It allows you to look at any author's page and see her actual book sales, number of reviews, and rankings for every book she has on Kindle for the last thirty days.
It shows you the main keywords used by the author for a particular book (which is also broken down by use in title and in description).
The short video tutorials on the site show you exactly how you can effectively use this tool
The book-tracking feature allows you to tag certain books and track their sales via a daily sales rank and revenue chart. You can imagine how useful this is when looking at your competition.
You can track your own books as well to examine the results of your marketing efforts or to see if your sales go up and down when you change your keywords.
You can track another author's sales for the last month. It can be insightful to note how few sales many best-selling authors are currently making, or how only one book in their arsenal is making a killing, whereas their other book sales are flat. In contrast, some first-time authors are making five-figure sales per month per book.
All the data is exportable so you can put the results in a folder to refer to.
In seconds, sometimes with just one click, you can see a wide landscape regarding genre and revenue, helping you make marketing decisions for your book. Or helping you decide what your next book's genre will be.
And once you've gathered data for the category you're interested in, you can click on the keyword button that will give you a word cloud that shows all the words that the best-selling books use in their titles and descriptions.
Why is this great?
Because this data can help you tailor what you write, or market what you've already written, by giving you proof of what's already working for other Kindle publishers.
KDSPY shows you the best-selling niches to go after and even shows you the words to use in your book titles.
Here's an example of how this tool helped me make a decision. I write historical Western romances.
I spent time researching using KDSPY checking the best-selling titles and their keywords, wondering just which keywords and categories would be best for my books.
Since my books could go in the inspirational romance category, I wondered if I should choose that as one of my two categories on Kindle.
When I peeked at the best-selling titles and authors in my subgenre and compared the general market sales and competition to the inspirational market sales and competition, there was a huge difference.
Overall, the inspirational market monthly sales revenue for a best-selling book was about one-tenth of the general market.
I decided not to use that category since it was clear the market I'd be targeting was smaller and afforded less opportunity for big sales.
What KDSPY Will Reveal in Seconds
Futile searches that take hours may garner you a few bits of information, but within seconds here is some of what KDSPY will reveal to you when you type in search words:
The top 20 (and you can choose multiples of 20) books currently selling in the Amazon marketplace and their titles
Each book's price and page count
Each book's estimated gross sales (not the revenue the author will make off each book sale)
Each book's number of book reviews
Each book's ranking (the lower the number, the closer to #1)
KDSPY's assessment (via red, yellow, and green "lights) on the strength of the competition with these search terms.
KDSPY Review: How to Use it Step by Step
Here are some ways you can use KDSPY to decide on a niche genre to write in.
Step 1. Navigate to a category to start your research.
Let's choose Mysteries. Type this in the search bar for the Kindle store. You'll notice on the top left under the blue banner the search results pulled up 252,616 results.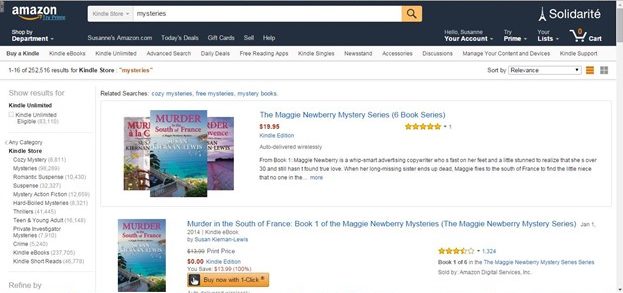 Then click on Crime as the subcategory: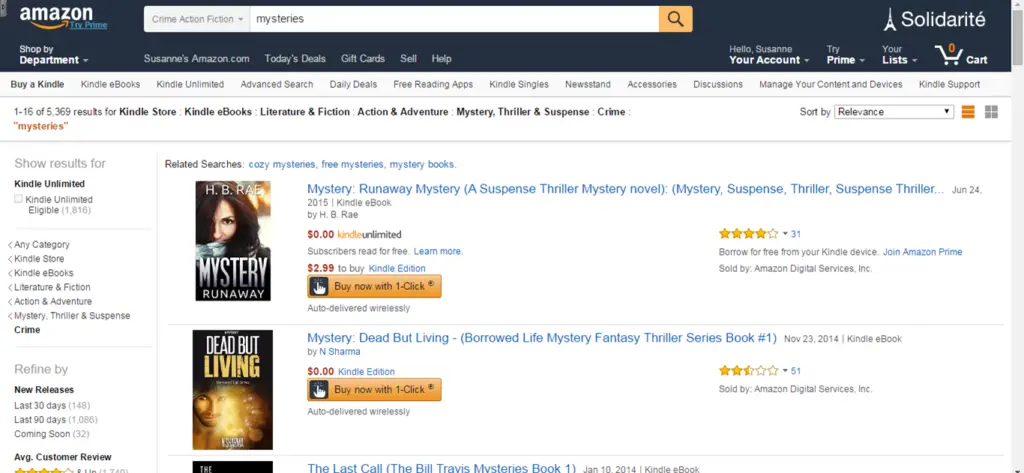 Now you'll see about 5,000 results for the subgenre. Click on the KDSPY button and get this: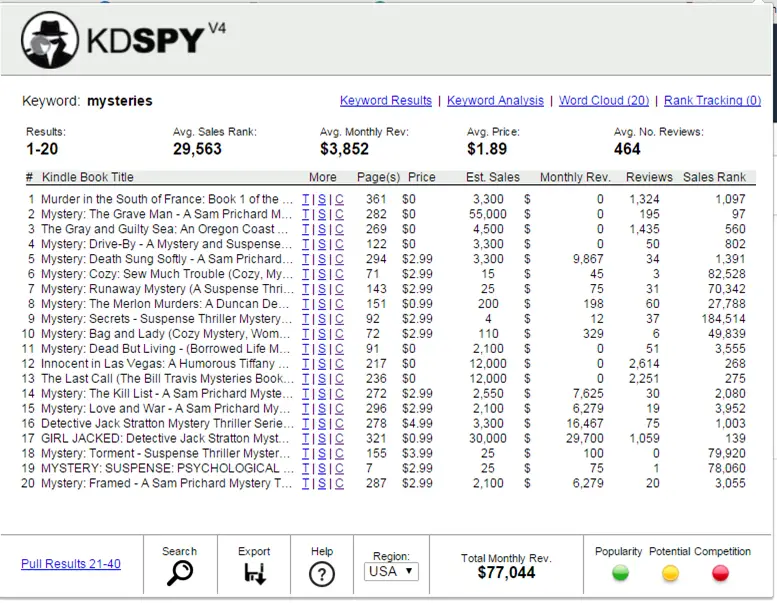 Then look at the Sales Rank on the right-hand side, Look for the first 20 results to be under 30,000.
This instantly tells you the answer to the #1 question you should be asking whenever researching a broad category, and that is "Are there buyers in the category?"
The great thing about KDSPY is that you don't even have to rely on the sales rank anymore and wonder how profitable it could be—it's already worked out for you.
The current month's estimated sales and sales revenue is given to you, right on the same screen.
The screenshot above shows all books (except free, of course) in this category have an average sales revenue of $3,852.
And at 70% royalty on anything above $2.99 you manage to get into the top of this category, you'd average about $2,500 of passive income just from a single book.
Not bad, right?
If you click on the lower right-hand button to add in the 20 results, you can get a broader average.
So once you've figured out there are buyers in this category, look at the average sales rank across the top results.
There's healthy sales revenue spread nicely over a bunch of books and not just a handful.
There are plenty of reviews on these books, and if you were to get a book in the top 40, you'd do very well.
But it's not easy to get into a top 40 position consistently. But it's not impossible either. Especially when you learn the tactics on leveraging Amazon correctly.
Once you've chosen that niche subgenre you might want to write in, take a look at the word cloud.
See which are the most used words in that genre.
That should help you when you're putting your keywords into your description section on your product page.
You can see the average page length (Amazon's estimate is calculated with about 330 words a page).
You can also see which books are using the main keywords in their title (KWT) and in their description (KWD).
Examining the keywords can also help you choose an appropriate title for your book.
Let's say you click on that search icon and type in some top keywords: Detective murder crime sleuth.
You can then see more specific results regarding pricing (note the average includes the free books, so you may want to calculate the average leaving those out), ranking, and revenue, and also note by the color-coding what the popularity, potential, and competition rankings are (green means low, red means high).
Sections in red, above, mean those are tough competition.
If you look at the next chart, you'll see a search was done for some top keywords.
Still some good monthly sales, but less competition.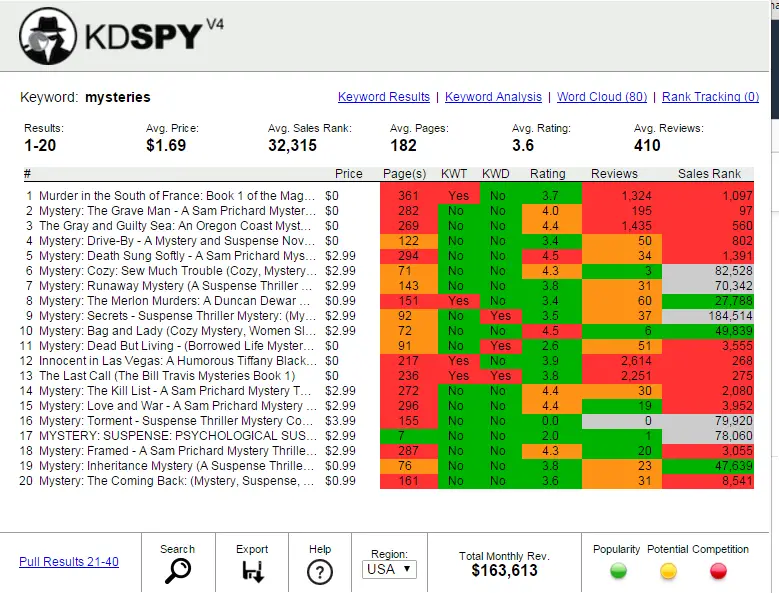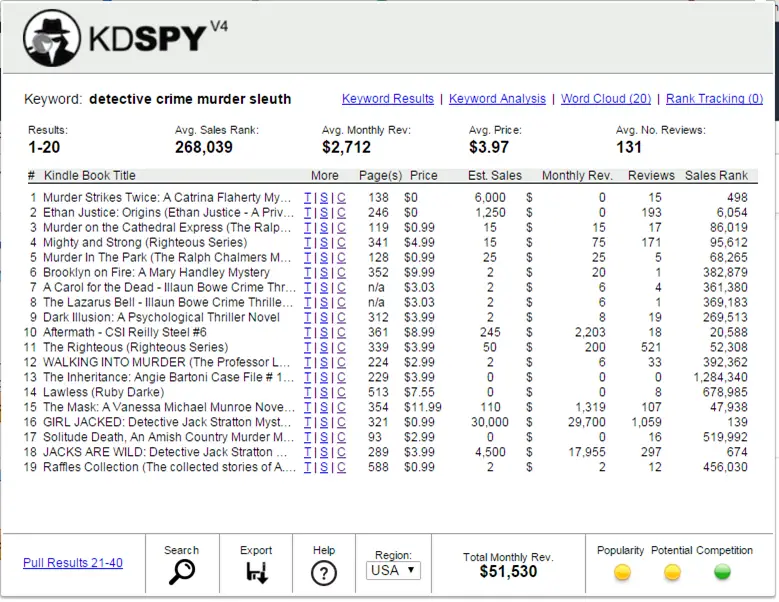 So you might consider using those keywords in your title and subtitle, as well as sprinkled throughout your product page.
Let's say your novel idea centers on a kidnapping.
Type "kidnapping" in the Kindle search bar, then click on the KDSPY icon. Here's what you'll see: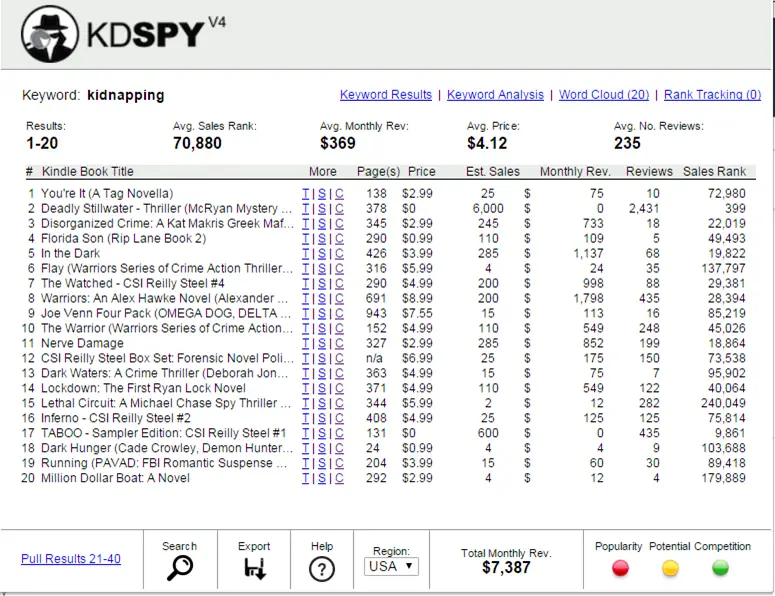 This shows you a number of books ranking in the top 20,000 paid, which is good. And while the revenue average for the top 20 is only $369 a month, the competition is light.
You'll want to play with these keywords and topic/theme ideas to find ones that will give you light competition and good potential for sales.
You may feel making $300 a month off each book in your series is fine. Or you may want to look for a different topic for your niche genre. Or a different subgenre.
By using KDSPY, you can snoop around and get real-time stats.
Note that the revenue is not what the author is making but what sales the book is generating over the last thirty days based on the list price.
Play Around to Find Your Niche Subgenre
Let's type in Romance in the Kindle store search bar. Then type in Paranormal Romance. Then Time Travel Romance.
Each time you add another layer to narrow the search results down, you can get a more focused picture.
When I take those steps, I end up with this: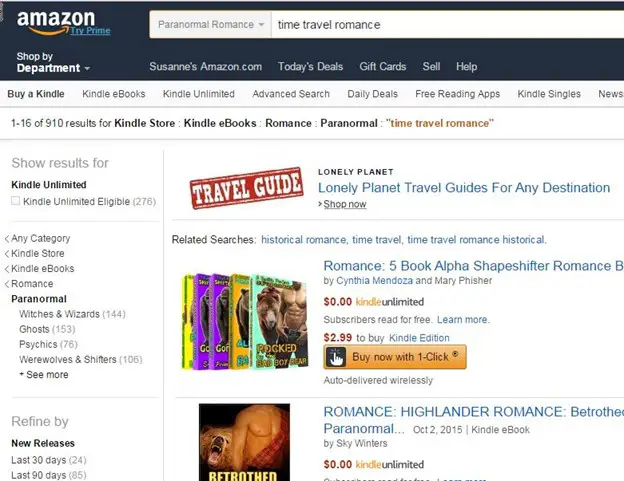 Note, there are only 910 results, and I could narrow even further by clicking on a subcategory under "Paranormal" on the sidebar.
Then, by using KDSPY, I could check each one of these for ranking, revenue, keywords, title ideas, popularity, competition, and potential.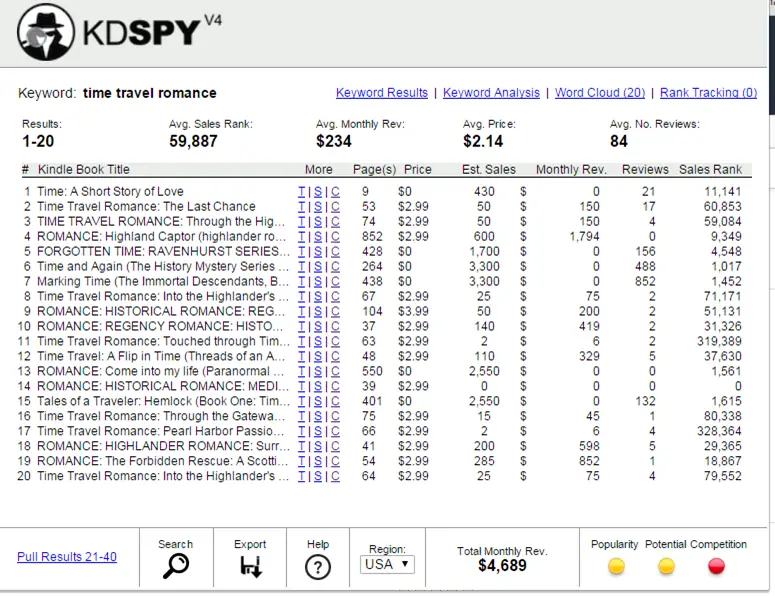 This chart shows me low revenue potential and high competition.
By looking at the word cloud under just the paranormal romance search results page, the words bear and tiger were most popular.
So if you type in bears tigers into the search bar, look at these results: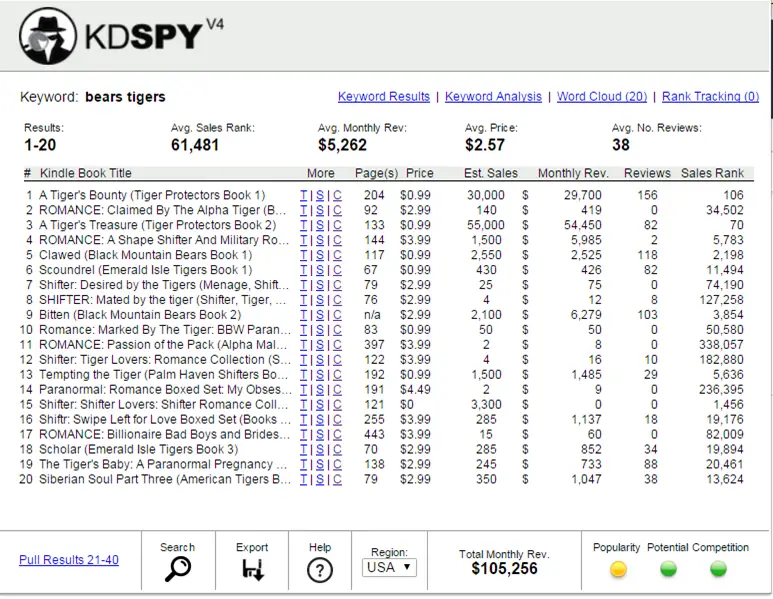 Interesting.
The sales jump way up, and while the popularity is average, the competition is light.
Looking at this, you might consider checking out these big-selling novels about shape-shifters that morph into tigers or bears. There just may be a place for your novels to sell big alongside these stories. And of course, once you read through some of these best sellers, you'll get a better idea of how to create plots and characters that will fit into this genre—still being original and not at all derivative.
The key, then, to all this, is to find that successful subgenre that appeals to you. However, keep in mind that most of these titles might belong to one very popular author. That can skew results. Just because that author writes about bears and tigers, it doesn't necessarily follow that if you do, you'll sell big too.
Ideally, you want to find some keywords and some niche genres with an assortment of authors all selling well in that top twenty. That will rule out the monopoly of just one author skewing the data. This is just one small look at what KDSPY can do to help you find that niche genre and make choices about plot or nonfiction topics and series ideas.
Play around with the search words. Maybe setting your detective story in England means 10x greater sales potential than if set in NY. Keep in mind that KDSPY only shows you Kindle and Amazon print book sales, not sales from any other online venues. But Kindle accounts for most authors' sales these days, and for me, this is the data I need, that will most help me in my book sales.
This app is great for both fiction and nonfiction books, and while it's not useable in every country, KDSPY has now been opened up to allow results to be pulled from the UK, Canada, Germany, France, Italy, Spain, and more. The customer support is excellent, which means a lot to me.
In addition to all the great features, KDSPY gives you lifetime free updates and sells for only $47 US. Considering how easy it makes it for you to find top-selling categories and keywords, track other authors' sales, numbers of reviews, and rankings, and see what price is selling the most, this is a tool writers really shouldn't pass up.
Click here to read more about KDSPY.
Feature Photo by Clay Banks on Unsplash